Popular CBD Dog Treat Recipe For Pain Relief
CBD (cannabidiol) and healing herbs can help to naturally relieve your dog's pain, stress and anxiety. Switch out your regular dog treats for these natural homemade cookies – effective for dogs with arthritis, cancer, anxiety, pain and inflammation. This recipe is grain-free and preservative-free for dogs with food sensitivities.
Tip: If you don't have CBD, just leave this ingredient out and your dog will still have a delicious pain-busting herbal treat. If you think your dog is in pain, always have your Holistic or Conventional Veterinarian perform a full assessment right away.
What is CBD?
Cannabidiol (CBD) is one of several components derived from cannabis or hemp plants. CBD is not intoxicating and has no mind-altering or psychoactive effects. It is one of the most researched components in hemp and cannabis plants. Research shows CBD is promising for treating:
inflammation
epilepsy
pain
anxiety
insomnia
autoimmune diseases
inflammatory bowel disease
addictions
psychosis
Jump to Recipe
Can CBD Help My Dog's Pain?
Dogs – like humans – can experience pain for a number of reasons. Pain can be acute and short-lasting (such as from injuries or surgery). Pain can also be ongoing or chronic from conditions like:
arthritis and joint pain
advancing age
irritable bowel disease
a serious medical condition like cancer
Studies of CBD in dogs are very encouraging, with reports of:
decreased pain
increased mobility
improved quality of life
reduced inflammation
reduced seizures
CBD is very safe for dogs. A recent study of dogs with arthritis pain demonstrated a significant reduction in pain and an increase in their activity levels when given CBD oil – all with no observable side effects. 
A Cornell study found that over 80% of dogs who took CBD in a proprietary hemp oil blend showed significant improvements in pain related to osteoarthritis, chronic joint pain and geriatric pain and soreness; dramatic effects were seen in the senior dog group. Research like this supports the experience of thousands of pet parents and canine clinicians like us, who have been using CBD for years.
We have used CBD for years with rescue dogs as they adjust to new families, dogs with anxiety, joint and nerve pain, cancer and our senior dogs.
Is CBD Safe for My Dog?
CBD is very safe for dogs and well tolerated. Even at high doses, no overdoses or serious harms have been reported. Rare and mild side effects are occasionally reported (nausea, diarrhea, dizziness, slight increase in a liver enzyme called alkaline phosphatase). 
Warning: Never give your dog cannabis (marijuana), as they are exceptionally sensitive to psychoactive THC in marijuana, which can be harmful.
Research shows that dogs with arthritis pain show a significant decrease in their pain and an increase in activity with CBD – all with no observable side effects.
Can CBD Interfere with My Dog's Prescription Medications?
CBD is metabolized in the liver, where it's broken down by enzymes known as CYP450 or the "cytochrome pathway". About 60% of all medications use this pathway. When more than one medication (or certain foods) use this metabolic pathway at the same time, the rate or speed with which the medications are metabolized can be affected. Sometimes a medication breaks down faster or slower, and enters the bloodstream in somewhat higher or lower concentrations.
CBD can compete with other medications in this pathway.  Although CBD may not necessarily cause an increase or decrease in the levels of other medications in your dog's body, there is that possibility. Dosing of CBD and other medications may need to be monitored. Here's how CBD might interact with some medications commonly prescribed for dogs:
CBD and Common Medications for Dogs
CBD is very safe and well-tolerated in dogs. If your dog is taking CBD together with one of these commonly prescribed medications though, here's what you should know:
Antibiotics. There are no known interactions, however some studies show taking antibiotics and CBD together may amplify the effects of both, without any significant side effects.
Metronidazole (Flagyl). This is an antibiotic that also kills parasites and is commonly prescribed for bacterial infections in the gastrointestinal tract, and for inflammatory bowel disease. Research is unclear about any specific interactions or side effects if taken with CBD. However, it's prudent to consider that the effects of both may be heightened, if taken together. 
Thyroid Medications. If your dog takes medications for hypothyroidism (low thyroid), it's possible that CBD can slightly increase the amount of thyroid hormones in his body. Continue to check thyroid levels regularly, and let your vet know your dog is taking CBD.
Arthritis Medications. Vets commonly prescribe non-steroidal anti-inflammatories (NSAIDS) for joint pain. Early research suggests CBD can be given together with most NSAIDS. A small study has suggested very high doses of CBD may lessen the pain-relieving effects of Tramadol, however there is no research regarding smaller CBD doses.
Steroids. CBD can increase the risk for systemic side effects of steroids like prednisone or hydrocortisone (oral). Avoid using CBD while your dog is taking a steroid.
Chemotherapy. Early research suggests CBD may improve the effectiveness of chemotherapy, help improve a dog's appetite and slow tumour growth (Henry et al, 2021).
Seizure Medications. Drugs like phenobarbitol are commonly given for seizure disorders. CBD may increase the concentration of anti-seizure medications in the body and heighten medication side effects like drowsiness. One recent study found no significant interactions, but warned of possible increases in a liver enzyme with long term use at high doses. Ask your vet about blood tests to determine if a lower dose of seizure drugs may be needed when CBD is used. CBD and anti-seizure drugs can be used together very effectively with the help of a knowledgeable vet
Hints:
To avoid or minimize any possible interactions, give your dog CBD 2 hours before or after administering other medications
Start with low doses of CBD. Low doses can be quite effective while avoiding interactions
If you or your vet are concerned about CBD-drug interactions, consider other forms of CBD such as CBD creams or ointments that aren't taken internally
Many vets aren't well informed about CBD. Ask if your family vet is willing to consult with a CBD-informed conventional or holistic vet or cannabis specialist
How Do I Choose the Right CBD for My Dog?
There are several different forms of CBD available, such as powdered isolate, alcohol tinctures, topical ointments and oils. This recipe calls for CBD oil. We prefer full spectrum CBD oils because they contain the full range of terpenes, phytochemicals and flavinoids found in nature that work synergistically. CBD oils are also easy to find and dose.We recommend CBD that's organic, extracted with CO2, blended with pure hempseed or MCT oil and third party lab tested.
Where Can I Get CBD?
At Healing Fur Souls, we look for the highest quality products to help our own dogs – and yours. Check with your country or state about any restrictions on purchasing CBD products. To assist you, here are the CBD products we recommend for our American and Canadian pet parents:
United States residents can click here to order CBD oil for dogs.  
Canadian residents can click here to order CBD oil for dogs.
How Much CBD to Give to Dogs with Mild to Severe Pain
Find your dog's weight in the table.
Add the amount of CBD in milligrams based on your dog's level of pain. Always start with the lowest amount of CBD oil and gradually work up. Each batch of cookies lasts 6 days, so it's easy to start low and increase gradually. Always make 12 cookies per batch to ensure your dog gets a consistent amount of CBD and herbs.
CBD Dosage for Dogs
Dog's Weight
in kg (lb)
Low Dose CBD
in milligrams per cookie
(and milligrams per batch)
High Dose CBD
in milligrams per cookie
(and milligrams per batch)
<11 lb (5 kg)
3 mg per cookie  (36 mg per batch)
10 mg per cookie (120 mg per batch)
13-22 lb (6-10 kg)
4 mg per cookie (48 mg per batch)  
12-20 mg per cookie (144-240 mg per batch)
24-33 lb (11-15 kg)
7 mg per cookie (84 mg per batch)
22-30 mg per cookie (264-360 mg per batch)
35-50 lb (16-23 kg)
10 mg per cookie (120 mg per batch)
32-46 mg per cookie (384-552 mg per batch)
52-66 lb (24-30 kg)
13 mg per cookie (156 per batch) 
48-60 mg per cookie (576-720 mg per batch)
68-80 lb (31-36 kg)
16 mg per cookie (192 mg per batch)
62-72 mg per cookie (744-864 mg per batch)
81-90 lb (37-41 kg)
18 mg per cookie (216 mg per batch)  
74-82 mg per cookie (888-984 mg per batch)
91-110 lb (41-50 kg)
22 mg per cookie (264 mg per batch)
82-100 mg per cookie (984-1200 mg per batch)
112-132 lb (51-60 kg)
26 mg per cookie (312 mg per batch)
102-120 mg per cookie (1224-1440 mg per batch)
HealingFurSouls.com
Pain-Relieving Herbs for Dogs
In addition to CBD, there are several safe and well-researched herbs that can help relieve your dog's pain and inflammation naturally. Our Canine Herbalist added these healing herbs to our dog treat recipe to boost pain control. They make an effective pain control cookie, even if you don't add CBD.
Turmeric
Turmeric is a popular anti-inflammatory herb that comes from an Indian root commonly used in curries. Curcumin is the active component of turmeric and is well researched for its ability to relieve pain and inflammation – especially. in arthritis. Make sure you include the coconut oil and black pepper in this recipe so that turmeric gets fully absorbed. Turmeric is a bright yellow spice that can stain hands or surfaces, so protect surfaces and wash hands after handling.
Boswellia
Boswellia (also known as Indian Frankincense) comes from the resin of tree bark and is used widely in traditional medicine for arthritis pain and inflammation. Boswellia and turmeric are often researched together for their role in improving pain and mobility and have been shown to be a more effective pain reliever than the pharmaceutical drug Celecoxib in humans.
When Boswellia was studied in dogs with arthritis pain, nearly three quarters treated with Boswellia for 6 weeks showed significant improvement in arthritis pain. Side effects were noted to be extremely rare and very mild (occasional gas and loose stools).
Devil's Claw
Devil's claw is a natural analgesic (pain reliever), anti-inflammatory and anti-oxidant known to reduce arthritis and muscle pain quickly and effectively. Leave this herb out of the recipe if your dog is pregnant, lactating, diabetic or taking medications for heart problems.
Lavender
Although Lavender is not used specifically to decrease pain, it is used in this recipe to help with the stress and anxiety related to pain. It also helps soothe gastrointestinal issues and depression.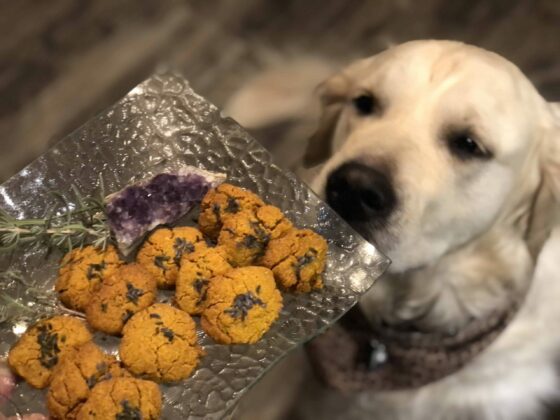 Natural CBD Dog Treat Recipe for Pain Relief
This dog treat recipe is grain-free and contains pain-busting herbs and CBD (cannabidiol). Each batch contains the proper amount of herbs and ingredients to make 12 cookies or "doses". We recommend starting with the low-dose CBD recipe and giving your dog two cookies per day – that's one cookie every 12 hours. 
Ingredients  
1/2

cup

coconut flour

1

tsp

ground black pepper

1/4

cup

natural peanut butter – NO sugar

NO salt and NO xylitol (toxic to dogs)

1

free range organic egg

Substitute with one duck egg if your dog is sensitive to chicken

3

tbsp

coconut oil

melted

Dried Boswellia

Multiply your dog's weight in pounds x 6 mg to get the amount per batch

e.g. a 50 lb dog would need 50×6 mg = 300 mg of Boswellia in the entire batch

Dried Turmeric

Use 1.5 tsp per 10 pounds of dog's weight e.g. a 50 lb dog would need 1.5x tsp x 5 = 9 tsp of dried turmeric per batch

Dried Devil's Claw

For dogs under 20 kg

45 lb use 2/3 of a tsp dried herb per batch

For dogs over 20 kg

45 lb use 1 1/4 tsp dried herb per batch

Dried Lavender is used to sprinkle over cookies before baking

CBD oil

(see table above for amount of CBD to use, based on your dog's weight) 
Instructions 
Preheat over to 325-350 degrees. Temperatures above 350 degrees may degrade the CBD.

Mix together all dry ingredients into one bowl: coconut flour, black pepper, Turmeric, Boswellia and Devil's Claw

In a separate bowl, thoroughly whisk together wet ingredients: egg, coconut oil, CBD oil

Add peanut butter to wet ingredients and whisk together thoroughly

Add wet ingredients into dry ingredients and mix

Work the dough in your hands until it sticks together. Wear gloves to prevent staining your hands with turmeric.

Divide evenly into 12 cookies and place on cookie sheet lined with wax paper.

Sprinkle cookies with a bit of dried lavender

Bake at 325-350 degrees for 30 minutes or until done

Cool cookies on a cookie rack

Give one cookie twice a day (every 12 hours). Gradually increase from low to high doses of CBD if needed. Keep cookies refrigerated or frozen (freezing does not affect CBD).
Notes
Tips:
Have a pair of disposable gloves ready to prevent staining your hands from turmeric.
You may need to grind herbs such as Boswellia or Devil's Claw (with a mortar and pestle or coffee grinder) if they aren't already ground up into very fine pieces, or in powdered form.
How Do I Know if CBD Treats are Helping My Dog?
The effects of these CBD dog treats can take several days or even weeks to notice. We suggest simply replacing your regular treats with these and watch your dog's behavior over the next few days or weeks. In studies of pain-relieving herbs, researchers typically begin to see positive changes after at least six weeks of consistent treatment. However some pet parents notice a change more quickly. We have seen near-immediate effects with CBD, even after one dose. Here's how to tell if CBD dog treats are helping:
your dog becomes more active or mobile e.g. it's easier for your dog to stand, sit, walk
your dog stops licking or biting at sore spots e.g. hind legs or lower back in dogs with hip dysplasia 
you see positive changes in behaviour e.g. your dog may wag his tail more, have more energy, play or engage with you more often
your dog may sleep longer or better, without periods of agitation
your dog may show improvements in stress or anxiety e.g. they may show fewer stress-related behaviours such as chewing, vocalizing, pacing, licking
Important Tips:
Check with your Holistic Vet before giving these biscuits to pregnant or lactating dogs, in those with severe liver disease, and in dogs taking heart medications.
Start with the lowest dose of CBD and gradually increase over a few days. Knowing the lowest effective dose also saves money.
Every CBD product doses differently. This recipe and dosing table is in milligrams – not drops or millilitres. CBD oil will be labelled according to its strength or concentration of CBD per unit of carrier oil (milligrams of CBD per amount of carrier oil in millilitres). For example, if there are 1000 mg of CBD in 30 mL of carrier oil, half the bottle (15 mL) will give 500 mg of CBD for one batch of high-dose CBD cookies for a dog weighing around 50 lb. If in doubt, check with the product's manufacturers. 
Consult a holistic vet when using CBD with dogs who have compromised livers. One study showed a slight increase in a liver enzyme called alkaline phosphatase during CBD treatment. However, proper nutrition, supplements (such as milk thistle) and minimizing unnecessary pharmaceutical drugs can support the liver while benefiting from pain-busting CBD.
Never substitute cannabis (marijuana) for CBD, as cannabis contains THC which can have harmful psychoactive effects in dogs
Consider other holistic modalities to help reduce pain like:

Acupuncture
Rehab specialist
Be kind to all living beings. Respect the earth we share.