How to Choose a Veterinarian: Top 12 Tips 
You want your dog to live a long and healthy life. 
One of the people that can help you achieve this is a veterinarian. A Doctor of Veterinarian Medicine (DVM) for companion animals (pets) practices conventional Western medicine and is the most common health care provider for dogs. So how do you choose the best vet for your Fur Kid?
Top 12 Tips 
Here are the top 12 tips for choosing the very best vet for your pet:
1. Look for a vet that specializes in companion animals.
All vets need to be a licensed Doctor of Veterinary Medicine (DVM). However, vets can specialize in farm animals, exotic animals, industry, research or other areas. Make sure you're looking for one that works primarily with companion animals (pets) for a good fit.
2. Find a location near you. 
Although rural vets may be less expensive than those in a large city, choose a clinic that is close by. If your dog is in crisis, you don't want to be driving 2 hours for urgent care. Extra driving time adds stress to you and your dog. It's also inconvenient for those in-between visits where you just need to pick up medications or drop off a stool sample.
3. Ask if the vet has a specialty.
Although not necessary, some vets have extra education and skills in rehabilitation, behaviour issues or even in a specific breed of dog. If you are adopting an older dog or one with mobility issues, you may be interested in a vet with expertise in rehabilitation medicine. Or if you plan to breed your dog, ask if the vet has expertise in obstetrics and reproductive surgeries.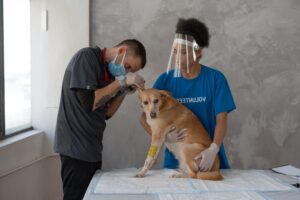 4. Ask about hours of operation and how after-hours emergencies are handled.
Evening and weekend appointments can be helpful. Ask if they have emergency facilities. If they don't, find out where the closest emergency vet is located. Some vets don't take emergencies or perform surgeries and will only treat "outpatients". Make sure you have the care you want for non-urgent appointments and emergencies.
5. Ask for recommendations.
Talk to dog owners in your area. Ask whether they have had positive or negative experiences with certain vets. Join a neighbourhood chat group to get opinions.
6. Ask if the vet has experience with your dog's breed.
Although most vets are qualified to care for all dogs, you may want to look for someone who has a special interest in your dog's breed, especially if you have an uncommon breed.
7. Ask about the vet's approach to care.
If you choose a conventional vet, do they focus exclusively on Western medicine, or are they open to complementary therapies? Do they pressure for vaccinations or particular types of food? Some clinics refuse to take animals who are on a raw diet. Most conventional vets don't receive sufficient training about healthy nutrition, so be cautious about biased corporate research, kickbacks and blatant advertising.
8. Ask if they are willing to work with other dog health care providers.
You may want to have a variety of specialized care providers on your dog's health care dream team. If your potential vet isn't willing to work with holistic vets, dog chiropractors, rehab specialists, acupuncturists or others, walk away.  If you plan to have a conventional and holistic vet on your team, be open with both and ensure they communicate with each other to develop a treatment plan that you all agree with. This can be a frustrating process, but persevere and your dog will reap the benefits of comprehensive health care and an effective team. If you're not sure about the options you have for your dog's health care team, read this.
9. Ask if your dog will have a primary vet.
Some clinics hire several vets or work in a team model, where your dog may have a different vet or student vet each time they come in. Although not essential, it is beneficial to have one consistent vet who you develop a relationship with and who knows your preferences.
10. Tour the clinic with your dog
Check the parking lot for adequate parking and accessibility. If you have a big dog or one who has trouble walking, ramps are preferred.
Look around to see how clean the space is. Are "accidents" cleaned up? Does it smell fresh without the use of strong chemical cleaning products? Are vets and vet technicians wearing clean scrubs free of stains, mud or body fluids? Is there space between the chairs so stressed dogs have their own space?
Ask to see the "back" of the clinic. This is where your dog may have to stay overnight for treatments or to recover from surgery. Crates, cages or confined areas should be clean without rusty bars, locks or dangerous items. Blankets should be clean and neat without any holes or frayed spots. If there is a bowl of water in the crate, it should be fresh.
Ask about supervision. Does a vet tech stay with the animals when they are recovering? Do staff stay overnight? Are there security cameras? Do staff monitor the cameras?
11. Notice how your dog reacts.
Although it's normal for your dog to be nervous, look for signs of distress, fear or aggression. You want a clinic where the staff are calm, kind, compassionate and not rushed. If your dog is stressed, you want staff to make an effort to make your dog comfortable.
12. Compare Prices.
Costs shouldn't be the deciding factor for health care, but it's a reality and, it can be expensive. Ask for an estimate for a specific procedure and then call around. For example, ask what the cost would be for neutering a 75 pound male Golden Retriever. The estimate should include the cost of the surgery, anesthetic, pain medications, a follow up visit and other recovery care. If the price is significantly higher or lower than other estimates, ask the reason. For example, a higher price might include overnight staffing or include antibiotics and probiotics.
If you follow these tips, you are well on your way to choosing the perfect vet!
Learn about other health care options for your dog here.
Want the top tips for choosing a Holistic Vet? Check this out