Herbal Dog Treat Recipe for Anxiety and Stress
Is your dog stressed or anxious? Separation anxiety? Afraid of thunderstorms or fireworks? Just a little high strung?
Help him calm his anxiety with a home-made batch of soothing anxiety-busting cookies!  We, at Healing Fur Souls are happy to give you this delicious, easy recipe for La-La-Lavender Dreams to make at home!
Not Your Average Dog Treat!
Many processed dog treats are made with artificial colours and flavours, genetically modified grains, nitrates, preservatives, corn syrup, salt and unhealthy oils. Useless calories that lead to inflammation, weight gain and dehydration.
Not these!
We use fresh, organic ingredients and medicinal herbs in our recipes to help your dog with common conditions – in the most natural way possible.
Medicinal Herbs
Our recipes use herbs as natural medicine in our scrumptious, healthy dog biscuits. Each tasty treat contains herbs that are backed by science to support dogs' natural ability to balance and heal from minor conditions and ailments.
Medicinal Herb Biscuits are backed by science.
Grain-Free
Our recipes avoid or limit grains which can aggravate skin, digestive, thyroid or immune problems. We use organic herbs. This ensures they are pesticide-free and non-genetically modified (non-GMO).
Although we use herbs that are safe with dogs in appropriate doses, occasionally, dogs – like people – can have food allergies. Do not give more than 3 per day & do not use with pregnant or lactating dogs.
Lavender and Chamomile Herbs for Anxiety
Lavender & chamomile are the medicinal herbs used in these grain-free biscuits.

Lavender
This well-researched herb is known to calm the nervous system, and improve anxiety and depression. It has been used for centuries to help with insomnia, tooth problems and even skin conditions.
Chamomile
Chamomile is another well-researched herb and is often used for insomnia. It's also known to help calm upset stomachs, cramps, muscle spasms, inflammation and even hay fever.
"La-La Lavender Dreams" Dog Treat Recipe
Herbal dog treat recipe to reduce anxiety and stress
Ingredients  
1/2

cup

coconut flour

1/4

cup

natural peanut butter

NO sugar and NO xylitol (toxic to dogs)

1

free range organic egg

3

tbsp

coconut oil

melted

3

tbsp

dried organic chamomile flowers

use a pestle and mortar to grind into small pieces. Put aside a few buds to sprinkle on top, if you'd like

3

tbsp

dried organic lavender flowers

Put aside a few buds to sprinkle on top, if you'd like.   NEVER substitute dried herbs with essential oils
Instructions 
Preheat oven to 350 degrees F

Mix dried herbs together in a bowl (chamomile and lavender)

Add the remaining ingredients and stir well

Form into balls approximately 1/2 inch in diameter. Flatten on a baking sheet to approximately 1/4 inch thick

Sprinkle a few lavender or chamomile buds on top of each cookie, if you're feeling extra fancy!

Bake on bottom rack 15-20 minutes, until no longer soft

Allow to cool on a baking rack, while your grateful Fur Soul drools!
Notes
There are no preservatives so, once they've cooled, store these biscuits in the fridge. They may be stored in an airtight container in the freezer to extend freshness.
We recommend these organic lavender flowers  and TooGet's organic chamomile flowers
How to Use La-La-Lavender Dreams Herbal Biscuits
Give 1-2 as a bedtime treat for soothing lavender dreams
Give 1 hour before stressful times e.g. before you leave the house, or prior to fireworks, thunderstorms or car rides
Our herbal treats can be helpful for general conditions – but we recommend a personalized consultation for your dog's specific health issues, constitution & needs. We can even make you a personalized medicinal dog treat recipe especially for your dog! Visit us at HealingFurSouls to book your appointment!
Lavender or Chamomile Tea Recipes
Your beautiful Fur Soul is thanking you for taking the time to make some healthy treats. Now, take a few minutes to enjoy a cup of lavender or chamomile tea for yourself, while he's waiting for those cookies to cool!
How to Make Lavender Tea
Pour 1 cup (250 mL) of water over 1/2 teaspoon of those loose lavender buds, and let it steep for a few minutes. Cuddle with your dog and enjoy!
We don't recommend lavender tea if you're pregnant or breastfeeding.
How to Make Chamomile Tea
Pour 1 cup (250 mL) of water over 1/2 teaspoon of those loose chamomile flowers, and let it steep for a few minutes. Cuddle with your dog and enjoy!
Hint: For my anxious dog clients, I like to leave a bowl of cool, diluted chamomile tea out in a separate bowl. Use the recipe for chamomile tea but instead of one cup of boiled water, use 4 cups. Leave about 1/2 cup of cooled tea out in a separate bowl for anxious dogs to self-medicate throughout the day.
Pair with a Crystal Pet Pendant to Soothe Anxiety! 

To help your dog's anxiety even more, add the power of crystals with the beauty of bling with a Healing Crystal Pet Pendant! We recommend amethyst to soothe anxiety, but book a consultation and we will customize a crystal charm for your dog's needs. Attach to your dog's collar & your pet's friends will be envious!
Do you have anxiety too? Gift sets are available for dogs and pet parents (Crystal Pet Pendant and matching Crystal Bracelet).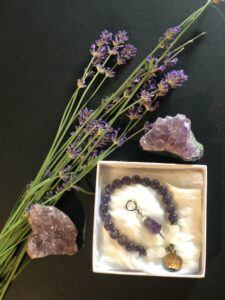 Crystals may pose a choking hazard for some dogs. Monitor use & cleanse crystals often. 
Be kind to all beings. Protect the earth we share.
Links Seen on This Page: