Best Healing Crystals for Rescue Dogs
Rescue dogs have typically experienced stressful or traumatic conditions that affect them physically, emotionally and spiritually.  In addition to unconditional love, we can help our Fur Souls heal energetically, with the power of crystals. Rhodonite, rose quartz, garnet black tourmaline and black obsidian gently heal dogs most affected by trauma.
Have you Adopted a Rescue Dog?
Congratulations! You and your Fur Soul have found each other!
What a beautiful journey you are on. You are the fur-ever Pet Parent your dog needs. You give him safety, companionship and unconditional love as he joins your family and recovers from stressful times before you adopted him.
Can crystals help him bond, trust, heal and adjust to his new wonderful life? Yes – crystals can be incredibly healing for dogs – and are especially wonderful helping rescue dog adjust to their new happy life!
Crystals can help release past traumas and encourage bonding.
Trauma in Rescue Dogs
Most rescue dogs have endured some type of trauma. It may be an obvious trauma like abuse or exposure to natural disasters, but can include other traumas such as:
grief and loss
inadequate nutrition or health care
lack of stable care or relationships
poor breeding practices and separation from litter
being around people and animals that are suffering or in ill health
being unable to fulfill their spiritual purpose or "soul contract"
What are the Best Crystals for Rescue Dogs?
We have found that the best crystals for rescue dogs are ones that:
support their sense of safety
open their hearts to accepting love
encourage bonding
help release the negative energies of early traumas and fear
These are the best crystals and can be used around the house or on pet charms that can be attached to a dog's collar:
Rhodonite
This pink and black stone represents strength and survival and can help heal emotional wounds and a sense of powerlessness. It's particularly effective at reminding your Fur Soul that he is always surrounded by love – even when you're not there.
Rose Quartz
Rose quartz is one of the most powerful heart stones. It help to release emotional pain and negative emotions like fear, aggression, anxiety and grief. It can encourage your rescue dog to accept love and to allow trust to build.
Black Obsidian
Black obsidian stone transmutes chaos and turmoil to cleanse the energies of dogs that have had a difficult start to life. Obsidian helps to ground dogs that are anxious and distractible so that they may accept the love and safety around them.
Black Tourmaline
Sometimes we use black tourmaline in the same way as black obsidian. However, black tourmaline is especially good for dogs that still have some chaos or uncertainty around them e.g. those in foster homes with other dogs coming and going, or are still in shelter. Black tourmaline transmutes negative emotions plus helps to protect sensitive dogs from electromagnetic frequencies (EMF) e.g. WI-Fi or electronics. It can also help protect curious dogs that wander or may have fear-based aggression.  
Garnet
This blood red stone supports the energies of the root chakra that are so often affected in dogs with trauma. Garnet strengthens the survival instinct and helps to erase past patterns and reactions to dangerous situations. It can help heal physical and emotional issues associated with the root chakra, and give strength to dogs who are depressed or fearful. It's a nice stone to use when gently training your rescue dog to re-shape his behaviours.
How Do I Choose the Best Crystals for My Dog?
Read through the descriptions above, and choose 1-3 stones that resonate with you. Or, better yet – let your dog choose!
Since crystals are pretty inexpensive, you can buy all five of the recommended stones and allow your dog to choose the ones that he needs. Simply place the stones on the floor and notice which one(s) your dog expresses the most interest in. Those are the right ones for him. Always supervise your dog around crystals and don't allow him to eat them. If you're worried about him swallowing them, place each stone under a heavy glass. He will still be able to tell you which ones he needs.
Allow your dog to choose his own crystals. He instinctively knows what he needs. 
Where Can I Get Crystals?
Crystals are easy to find. But, to be safe, always ensure they are pure crystals and not plastic or synthetic beads. Check out:
your local candle or metaphysical shop
a specialized crystal and rock shop
online stores
Here are a variety of ideas and types crystals to choose from:
Tips For Choosing Crystals
Whether you choose a large crystal in your decor, or use small crystals in a pet charm, here are some tips:
Don't leave small crystals near your dog, as it could be a choking hazard
Try a Pet Charm that attaches the crystals right to your dog's collar.  Make your own or get some inspiration at Healing Fur Souls.

 

Always allow your dog to choose whether he wants to be near crystals. Their energy may be too strong for him at times. If he seems interested, attach the crystal pet charm to his collar for a while; if not, cleanse and re-charge the crystal – then try again.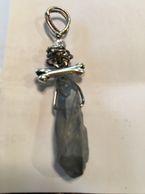 Always supervise your dog around crystals. If he's energetic or a working dog, offer crystal charms during a supervised rest period
If you LOVE crystals (like we do), go for a large crystal that you can set on a table or on the floor. They are visually stunning and powerful. Large crystals can be placed in a room that your dog likes going to. This gives him the opportunity to come and go, get the healing he needs from the crystal, and leave whenever he wants
Always cleanse and energize new crystals before introducing them to your dog
How Do I Cleanse My Crystals?
As soon as your bring home your new crystal, take the time to cleanse and energize it before you use it. Check out our complete guide to cleansing crystals, or start  with these easy steps:
Cleanse Your Crystal
As soon as your receive your crystals, place them in a bowl of salt for 24 hours to clear and cleanse them from the energies they've collected on their journey to you. Remember, they've passed through lots of hands and all sorts of emotions before they came to you. Make sure they are fully covered in the salt. After 24 hours, dump the salt in the drain or into the earth (somewhere your dog won't have access to).
Energize your Crystal
After cleansing, place your crystal in a window with access to the sun and moon. Leave them there for a full day and night to power up with the natural energies of sunlight and moonlight.
If you practice Reiki, or know a Reiki practitioner, infuse the crystal with Reiki energy for an incredible healing boost.
You're ready to use your crystals! Go through these steps of cleansing and energizing at least once a month – more often if your dog spends a lot of time with the crystals.
Can Crystals Help Me Bond with My Rescue Dog?
Yes. By subtly working with your dog's energies, crystals such as rose quartz and rhodonite will encourage your dog to be open to feeling our love.
For an extra boost of bonding power, get (or give) the gift of a matching pet charm and bracelet that share the same healing energies. You and your Fur Soul will attune to the same frequencies of the stone, making it a natural way to bond.
Missy's Story – Holding Trauma from Early, Unethical Breeding
Missy was a rescue dog that was adopted into a loving family at about age 3.
Her Fur Parents asked us to help with guarding and fear-based aggression.
Missy was repeatedly bred at a very young age. Her most basic needs like food and water were taken care of, but she was used only to produce puppies for her "owners" to sell off at a much too early age.
During our consultation, we noted that the energies in her root chakra were deeply affected.
The root chakra holds survival-based energies such as security and safety, as well as fear and aggression. It is also connected to the physical organs of reproduction and elimination.
Her early life without safety or security was beginning to manifest physically through frequent urinary tract infections and cysts near her genital area.
By using Reiki, we also noted that her heart chakra was carrying grief over the continued removal of her puppies, before she felt they were ready to leave her. She communicated that she wasn't allowed to fulfill her life purpose as a mother.
She then communicated the image of an orange coloured cat, and her pet parents confirmed that they had recently lost their cat, "Pumpkin" – whom Missy adored and treated as her own "baby".
Our plan included crystals to balance Missy's root and heart chakra energies and to allow her to begin healing from trauma and grief.
We used:
Garnet to release trauma held in the root chakra and support healing of her lower body
Rhodonite to clear emotional wounds and replace fear and aggression with calmness
Rose quartz to surround her with unconditional love and to honour her role as a mother
We also continued Reiki sessions to release unhealthy energies and support healing. Her Fur Parents bought her a stuffed cat toy to help her regain her mothering instincts and are considering having Missy pick out a new kitten to raise! They reported that a large cyst resolved within a day after our session, and that she has had no further infections since then.
Read more about how to use healing crystals with dogs here.
Be kind to every living being. Respect the earth we share.